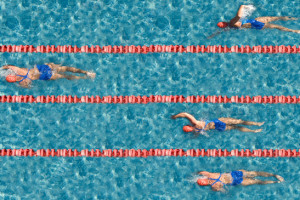 Words are pesky little buggers. From one format to the next, word meanings change.
Depending on the time, the place or the context; whether whispered, spoken or shouted; in a telephone conversation, email or text – one word takes on multiple meanings.
Defining Success
What exactly does success mean?
Certainly we could Google it to find a definition. But in reality, the definition of success is as varied as snowflakes. I first learned this from my daughter when she was barely 6 years old.
During the second lap of my daughter's first swim race, the judges patiently waited for her to finish the race. Oblivious to the fact that she touched the wall nearly a minute behind the other swimmers, she climbed out of the pool grinning ear-to-ear. "Mommy, I did it. I finished!"
Her race time was of no consequence. She was jubilant to have finished the race – true success. A former competitive swimmer, simply finishing a race wouldn't have come close to my version of success.
Career success
Last week, several decades post the swim success milestone, I met with two entrepreneurs about forming a partnership. Like me, both had spent years working in the corporate world and now owned their own businesses. As we discussed plans for offering resources to other boomer entrepreneurs, I asked: "How can we role model resources of success if we ourselves haven't achieved financial freedom?"
My colleague's response: "I guess it's a matter of how you define success."
Bingo…he sent my mind whirling. Again I realized that while success is one word, its meaning fluctuates.
Helpful questions for defining and redefining professional success
As summer winds down, often people re-evaluate their activities. I've found the following questions have helped me in evaluating where I can most successfully allocate my time and resources. Take a look and see if these questions help you define your personal experiential meaning of success.
Career
What's more important – the outcome or the process?
Do you enjoy what you are doing?
Have you continued to learn?
Do your colleagues, clients and/or networking contacts improve your quality of life?
Are you able to explore and use your skills and passions?
Networking and Friendraising Memberships
Does this membership provide experiential growth opportunities?
Are you improving at answering the ubiquitous question: "What do you do?"
Do you have opportunities for leadership or to help others in the group?
Are you benefiting from this membership in meaningful ways?
Does participation in this group add to or distract you from your goals?
Have you defined your goals for belonging to this membership?
Do you have a plan to achieve your goals?
Are you proactively working achieve your goals?
How do you define success?
Feel free to answer this questions and add your thoughts in the comment section below.